I am happy to announce the commission of Flock for installation in Napa Valley. Pictured above is an early motion study as began to work out the complex geometry of the sculpture. A big part of the inspiration is a hunch, based on recent work, of how far I could push CAD to actually build what I envision with as little compromise to reality and gravity as possible.
This work draws inspiration from the murmuration of birds. The goal is to create volumetric forms out of stainless steel that exhibit constant motion and change of motion, and like flocking birds, maintain a visual irregularity. A wind powered mobile, Flock will counterbalance one moving with a stone and the become the counterweight for another as it moves. The complex geometry should yield ever-changing and surprising visuals.
The process to get here has been a learning experience to say the least. Every time I get up the will power to pull it off the shelf and move it forward I have to again make sense of visuals like this: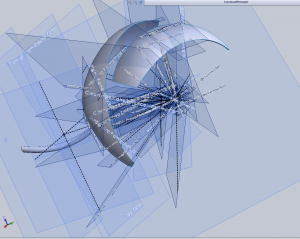 The sculpture will stand over 27′ tall at its peak and will be built from a combination of stainless steel, galvanized steel and stone. I hope to have Flock installed by the end of 2012.