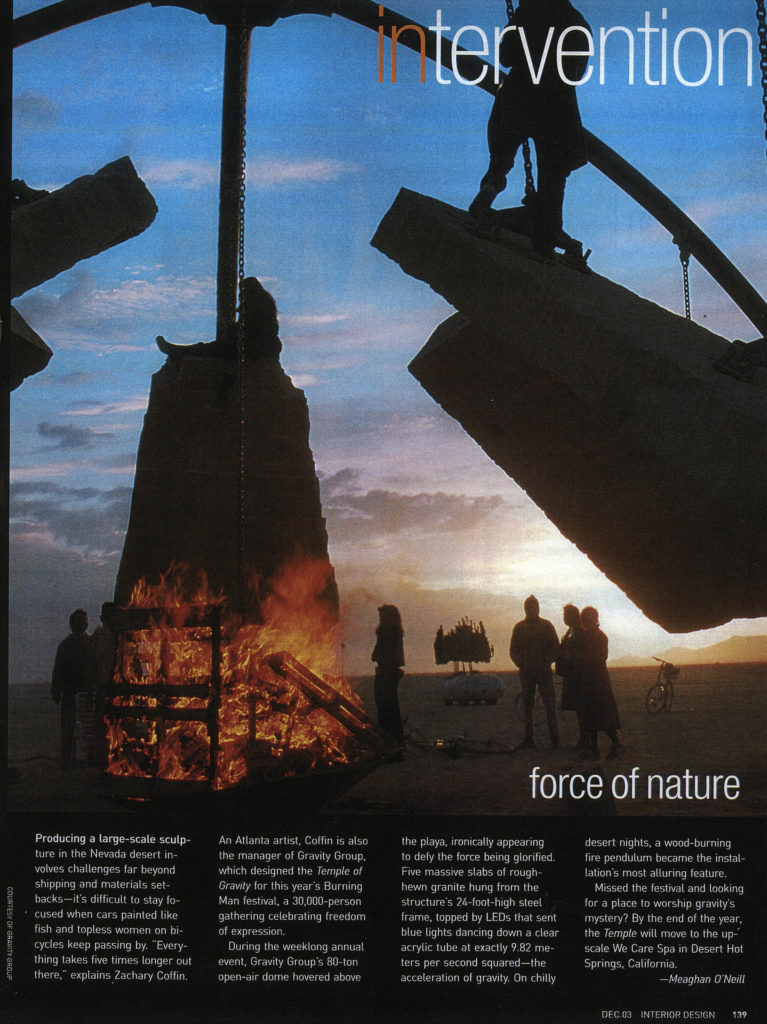 Producing a large-scale sculpture in the Nevada desert involves challenge far beyond shipping and materials setbacks — it's difficult to stay focused when the cars painted like fish and topless women on bicycles keep passing by. "Everything takes five times longer out here," explains Zachary Coffin. An Atlanta artist, Coffin is also the manager of Gravity Group, which designed the Temple of Gravity for this years Burning Man festival, a 30,000-person gathering celebrating freedom of expression.
During the weeklong annual event, Gravity Group's 80-ton open-air dome hovered above the playa, ironically appearing to defy the force being glorified. Five massive slabs of rough-hewn granite hung from the structure's 24-foot-high steel frame, topped by the LEDs that sent blue lights dancing down a clear acrylic tube at exactly 9.82 meters per second squared—the acceleration of gravity. On chilly desert nights, a wood-burning fire pendulum became the installations most alluring feature.
Missed the festival and looking for a place to worship gravity's mystery? By the end of the year the Temple will move to the upscale We Care Spa in Desert Hot Springs, California.
—Meaghan O'Neill
Interior Design
December 2003