Full searchable text below :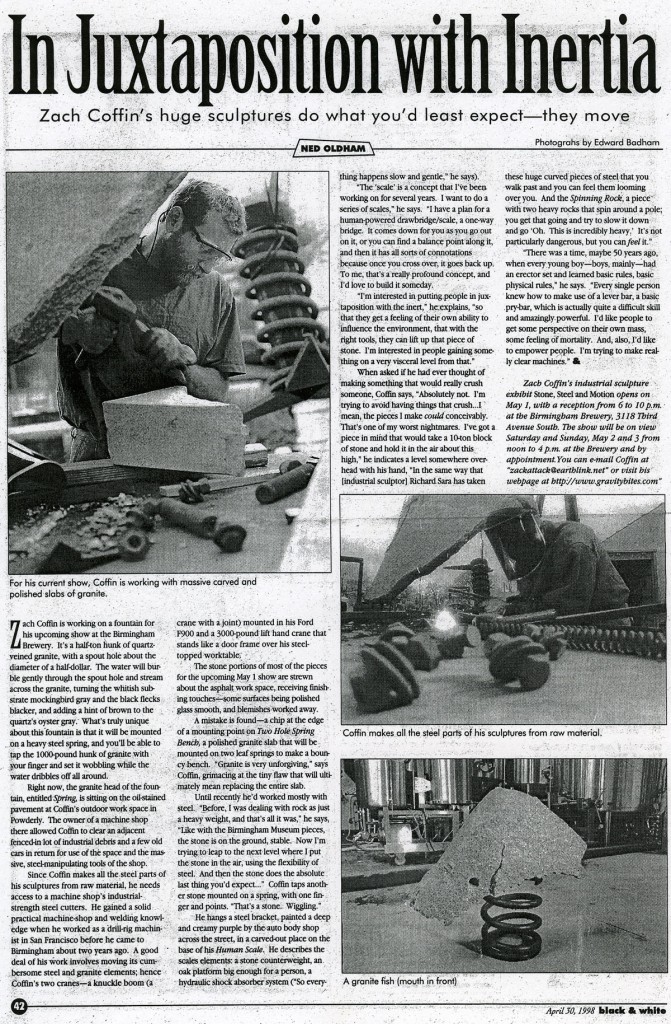 In Juxtaposition with Inertia
Zach Coffin's huge sculptures do what you'd least expect—they move
black & white
April 30, 1998
Page 42
By Ned Oldham
Zach Coffin is working on a fountain for his upcoming show at the Birmingham Brewery. It's a half-ton hunk of quartz-veined granite, with a spout hole about the diameter of a half-dollar. The water will burble gently through the spout hole and stream across the granite, turning the whitish substrate mockingbird gray and the black flecks blacker, and adding a hint of brown to the quartz's oyster gray. What's truly unique about this fountain is that it will be mounted on a heavy steel spring, and you'll be able to tap the 1000-pound hunk of granite with your finger and set it wobbling while the water dribbles off all around.
Right now, the granite head of the fountain, entitled Spring is sitting on the oil-stained pavement at Coffin's outdoor workspace in Powderly. The owner of a machine shop there allowed Coffin to clear an adjacent fenced-in lot of industrial debris and a few old cars in return for the use of the space and the massive, steel-manipulating tools of the shop.
Since Coffin makes all the steel parts of his sculptures from raw material, he needs access to a machine shop's industrial-strength steel cutters.  He gained a solid practical machine-shop and welding knowledge when he worked as a drill-rig machinist in San Francisco before he came to Birmingham about two years ago. A good deal of his work involves moving its cumbersome steel and granite elements; hence Coffin's two cranes—a knuckle boom (a crane with a joint) mounted in his Ford F900 and a 3000-pound lift hand crane that stands like a door frame over his steel topped worktable.
The stone portions of most of the pieces for the upcoming May 1 show are strewn about the asphalt work space, receiving finishing touches—some surfaces being polished glass smooth, and blemishes worked away.
A mistake is found—a chip at the edge of a mounting point on Two Hole Spring Bench, a polished granite slab that will be mounted on two leaf springs to make a bouncy bench. "Granite is very unforgiving," says Coffin, grimacing at the tiny flaw that will ultimately mean replacing the entire slab.
Until recently he'd worked mostly with steel. "Before, I was dealing with rock as just a heavy weight, and that's all it was," he says, "Like with the Birmingham Museum pieces, the stone is on the ground, stable. Now I'm trying to leap to the next level where I put the stone in the air, using the flexibility of steel. And then the stone does the absolute last thing you'd expect…" Coffin taps another stone mounted on a spring, with one finger and points. "That's a stone. Wiggling."
He hangs a steel bracket, painted a deep and creamy purple by the auto body shop across the street, in a carved-out place on the base of his Human Scale. He describes the scales elements: a stone counterweight, an oak platform big enough for a person, a hydraulic shock absorber system ("So everything happens slow and gentle, he says).
"The 'scale' is a concept I've been working on for several years. I want to do a series of scales," he says. "I have a plan for a human-powered drawbridge/scale, a one-way bridge. It comes down for you as you go out on it. Or you can find a balance point along it, and then it has all sorts of connotations because once you cross over, it goes back up. To me, that's a really profound concept, and I 'd love to build it someday."
"I'm interested in putting people in juxtaposition with the inert," he explains, "so they get a feeling of their own ability to influence the environment, that with the right tools, they can lift up that piece of stone. I'm interested in people gaining something on a very visceral level from that."
When asked if he had ever thought of making something that would really crush someone, Coffin says, "Absolutely not. I'm trying to avoid having things that crush…I mean the pieces that I make could conceivably. That's one of my worst nightmares. I've got a piece in mind that would take a 10-ton block of stone and hold it in the air about this high," he indicates a level somewhere over head with his hand, "In the same way that [industrial sculptor] Richard Serra has taken these huge curved pieces of steel that you walk past and you can feel them looming over you. And the Spinning Rock, a piece with two heavy rocks that spin around a pole; you get that going and try to slow it down and go 'Oh. This is incredibly heavy.' It's not particularly dangerous, but you can feel it."
"There was a time, maybe 50 years ago, when every young boy—boys mainly—had an erector set and learned basic rules, basic physical rules," he says. "Every single person knew how to make use of a lever bar, a basic pry-bar, which is actually quite a difficult skill and amazingly powerful. I'd like people to get some perspective on their own mass, some feeling of mortality. And I'd also like to empower people. I'm trying to make really clear machines."
Zach Coffin's industrial sculpture exhibit Stone, Steel and Motion opens on May1, with a reception from 6-10 p.m. at the Birmingham Brewery, 3118 Third Avenue South. The show will be on view Saturday and Sunday, May 2 and 3 from noon to         4 p.m. at the Brewery and by appointment. You can email Coffin at zackattack@earthlink.net or visit his webpage at http://www.gravitybites.com